A time measurer
For over a month now I have steadily driving myself nuts over watches. Not a watch or the watch. But watches. In general.
I drove around the town, went into shops, I talked to the sellers, I browsed all possible wesbites. But I still can't find a perfect watch. Some of this was mentioned here and here, but this post is going to be a conclusion of sorts. Or I hope it would.
Let's start with a target. I want a woman round mechanical watch with a heartbeat (or a skeleton) and Roman numbers. Is it too much to ask? Probably it is.
Tissot
I do own a Tissot watch. It's a PR-100, 100m water resistant, stainless steel, index & Arabic numbers quartz watch. It was a present from my parents for my, I believe, 20th birthday and it is the watch I wear everyday. It has been with me through thick and thin, and although it is not my first watch (rather my second one, the first one being Casio), it is still my most favorite one. Every time I travel anywhere, this is the watch to go with me. The only thing that sometimes mars its near perfectness is the fact that the crown is so difficult to pull and turn, that setting the time on the watch is pure nightmare. Sometimes I don't change the time at all - it's definitely less stressful.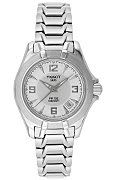 Tissot PR-100
My parents own a matching pair of Tissot PR-100 as well. But they bought theirs 15 years ago. :)
So, when I first got an idea about a new watch, naturally, I checked the Tissot website. And I saw this beauty.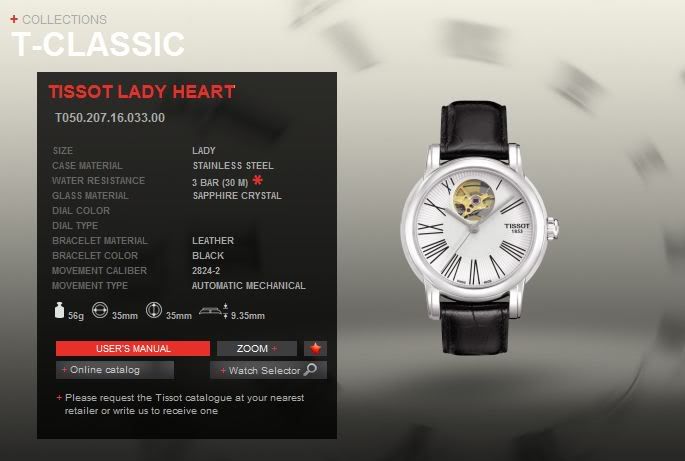 Tissot Lady Heart, Roman numbers, black leather wristband, automatic mechanical, stainless steel. Perfection.
But. There is always a but, right? There is no such model in our stores. I tried everywhere, I talked to the sellers. They have any other model from this collection (a red one or the one with purple flowers all over the dial), but not this one. I still hope that it is not something exclusively made for another market and that one day it would find its way to our shops.
Longines
Longines is another watch that I have. I am rather fond of it as well. It is a quartz watch with black leather wristband, rectangular dial and diamond indexes. It is rather posh and makes me feel glamorous when I'm wearing it :D Which I don't do often, for special occasions only, since it looks rather delicate. It was a gift from my parents for my 25th birthday.
Longines DolceVita L5.155.4. The image looks a bit different from my watch, something about the wristband looks different. But it is almost the same.
Granted, I don't want another Longines watch, but I looked through their collection and didn't find any watch to match my requirements.
I am not very knowing when it comes to any brands of Swiss watches. I know few brands, so I went through those I am familiar with first.
Frederique Constant
I am in love with single one of these watches. Especially the men's heartbeat collection. I was thrilled when I saw those. I was absolutely sure that I was going to find a perfect watch. But. But the lady's heartbeat collection consists of hearts and words 'love' cut in the dial. Oh, yes, they have Roman numbers and skeleton, but engraved with diamonds. Let's just say for the sake of history, I have nothing against diamonds. But I believe that diamond adorned hearts in a woman watch is a joke. It is tasteless and too girly and not really that fashionable.
See for yourself.
I mean really. It's just too much.
One sales assistant offered to try a man's watch. But my wrist is rather narrow, so anything big would look hideously out of place.
I pretty much despair when I think of Frederique Constant. I love their watches! They are perfect. Granted, they would cost over 1000 euro a piece, but they look so magnificent, I don't doubt they are worth it.
Another watch by Frederique Constant, that grabbed my attention, was a simple round dial Slim line watch with Roman numbers and black leather wristband. No heartbeat or skeleton, they are rather simple in design. But they look so damn expensive.
The Slim Line Collection is a series of ultra flat models, which are based on quartz movements with a thickness of just 1.90 mm. Dials are finished with a guilloché pattern produced by a complex engraving procedure. Precision too- ling, with tolerances as low as 1/1000 of a millimeter, have been developed for each pattern and dial design.
Doesn't this sound like sex to you? :)
There is a lady's model and they look really simple, but so damn elegant. I'd love to have this watch. But I really wanted to have one with a view of a mechanism. And the fact that there are wonderful, amazing, brilliant, mouth watering watches by FQ for men drives me literary crazy. It is so unfair, I am not even going to start on this.
In one shop they tried to persuade me that there was a heartbeat lady's watch with less diamonds, but I don't want ANY diamonds in my watch, thank you very much. Especially when it makes the price rise over 2000 euro.
That Slim line watch reminded me strongly of a Breguet. I mentioned it here, when I was talking about the watch that Sherlock wore in the series. I didn't know it was a Breguet. Thought it was a Frederique Constant. Those models are similar.
I looked at Breguet watches out of sheer curiosity, but they are so out of my league it's not even funny. Will keep them in mind till I am horribly rich.
Epos
I never heard of this brand before it was mentioned in one of the shops. Never heard of it, never noticed any watches in the shops. Nada. So I admit I was a bit cautious when I looked up the watches online.
And then I saw these.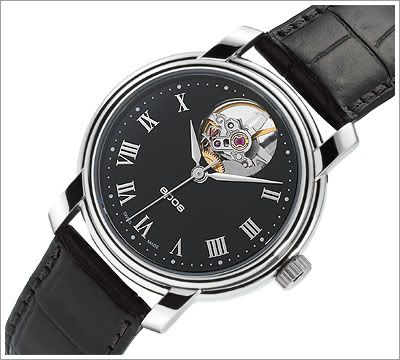 Mechanical self-winding semi-skeleton movement ETA 2824-2, decorated. Visible balance wheel at 12 o'clock. Stainless steel case with sapphire crystal and see through back. Water resistant to 50 m. Black dial with applied roman figures. Leather strap.
It sounds perfect. It has everything I wanted, starting with much sought skeleton and Roman numbers and ending with see through back cover, which is a very pleasant surprise. Black dial though, but the website promises a white dial variant as well.
But. Yes, there is a but here as well. Two buts, as a matter of fact.
One, the price. Some say it is less than 1000 euro, others say it's over 2000 euro. The fact is that no shops have it in stock and can say for sure. And I don't want to order it online without trying it on first.
Second, the brand. It is rather new company, originating from 1925, but founded as it is now in 1983. Basically this company is my age. I am not an elitist (no, really, I am not), but if I am to pay a sum of 1000 euros, I'd rather pay for a brand as well. I don't want to get a modern watch with no history. I want something that was formed through years and has its own pecularities. Like Breitling (which I adore for their sheer masculinity) being famous for their chronometers, like Frederique Constant creating Heartbeats, like Breguet inventing tourbillon. I want a watch with history. And there is nothing special about Epos, that I could find.
So, I am at loss at what to do. I am still looking for a perfect watch to get as a birthday gift for myself (I still have two months). Maybe I will get one of those mentioned above. Maybe I will find something else that would catch my attention. But I am not worried. Because the journey through the world of famous watches is as pleasant as a joy of a purchase would be.
xxx